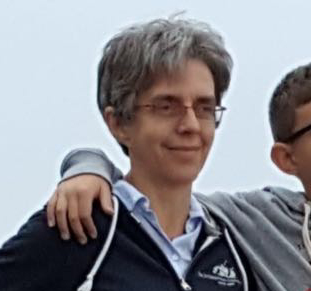 Biography
Laura Freina is a researcher at the Institute for Educational Technologies of the Italian National Research Council, in Genova.
After working at the definition and implementation of some serious Games aimed at developing basic skills in support of independent life for people with intellectual disabilities, she implemented an immersive Virtual Reality game to support the acquisition of the Spatial Perspective Taking (SPT) ability. SPT is the capability to imagine what the world looks like from someone else's point of view, and it is related to academic results in STEM areas (Science Technology, Engineering and Mathematics).
The game has been implemented with three different levels of immersion in the virtual world, and has then been tested with some classes from a local primary school to measure the impact of immersion on performance in the game.
In the school year 2016-17, she has followed a 6-month training of Spatial reasoning abilities with students from grades four and five of the local primary school "Cantore". The main objective is to measure the influence of the training on school results in math. The experiment is part of the "Game Based Learning" line of research.
Within the same line of research, the "Fate il vostro gioco" project aims at the definition of a learning path for students in the last years of primary school for the use of Scratch. Students will develop their own videogame, following all the steps from user needs, implementation, test, final evaluation, while developing their computational thinking skills. The characteristics that the games that will be developed will address also visuospatial abilities, needed both for the implementation of the game and for the gameplay itself.
Projects she had followed:
• Smart Angel: Support urban mobility and autonomous life for people with the Down syndrome.
• Smart Home: Support independent life in apartment for people with intellectual disabilities.
• In Your Eyes: Game for the acquisition and consolidation of the Spatial Perspective Taking ability.
• A me gli occhi: Visuo-Spatial reasoning training for grade four and five students in the Italian primary school.
• Fate il vostro gioco: Students from a primary school develop their own digital game.